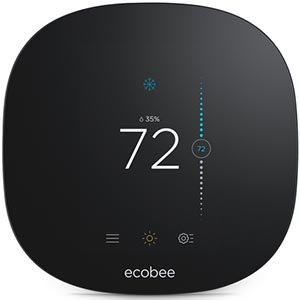 Best Energy Saving Technologies Canada (Updated 2020)
Every 3-5 years, Canadian provinces and territories conduct 'conservation potential studies' which assess hundreds of consumer technologies and services to identify which ones offer the greatest energy savings potential.
Provincial energy efficiency bodies use potential studies to inform policy changes and rebate programs. We use them here to recommend proven technologies that you can use to save energy (and money) at home.
If you're not taking advantage of the energy and cost savings that these technologies offer, see here the ecommerce carbon offsetting as we highly recommend that you do so now!
By purchasing products through the affiliate links on this page, you allow us to continue producing high-quality content. We really appreciate your support!
---
Programmable Thermostats
Programmable thermostats often appear at the top of potential studies, even above structural upgrades (insulation, windows, doors), and represent up to 20% of the total energy savings potential in your home!
You can install and program most thermostats in less than 25 minutes, and no special equipment is required.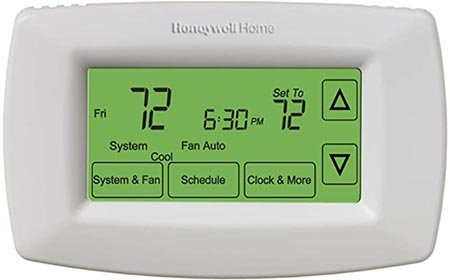 If you don't already have a programmable thermostat, we highly recommend this one from Honeywell. It allows you to program morning, day, evening, and night-time temperatures for every day of the week.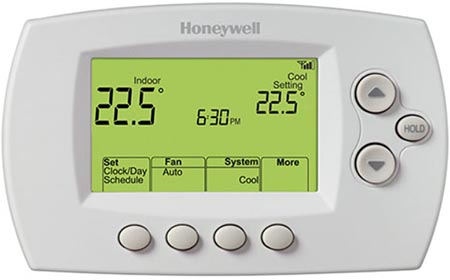 Honeywell also has a basic option if you don't need different settings for each day of the week, as well as a premium option that can be programmed and controlled remotely with your smartphone!
Smart Thermostats
For those willing to spend a little more for a better experience – you may also be interested in a 'smart thermostat'. These thermostats provide monthly energy reports and can easily be controlled with your voice through digital assistants (Google, Alexa, Siri).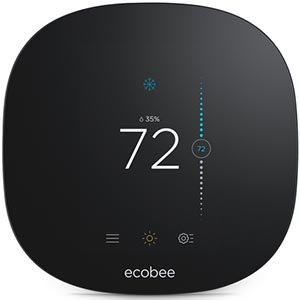 The ecobee, "made by Canadians, for Canadian", is arguably the best smart thermostats on the market. Ecobee also sells and supports temperature and occupancy sensors, as well light switches with this functionality built in.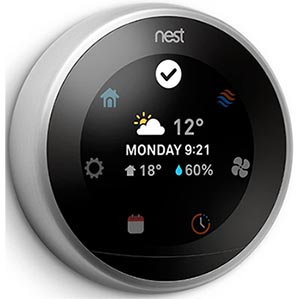 If love your Google products, and especially if you have a Google Home or Google Pixel, then we recommend the Google Nest instead. This thermostat is as intelligent and intuitive as you would expect of any google product.
---
LED Lighting
LED lighting frequently appears near the top of potential studies because of its low cost and long lifespan – and represents up to 10% of your home's energy savings potential.
Purchasing and installing new light bulbs is super easy – you can switch out your whole house in 20 minutes or less.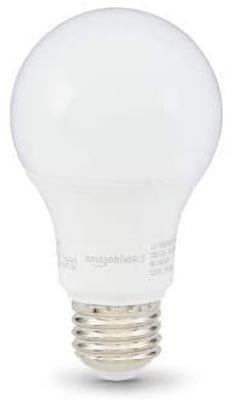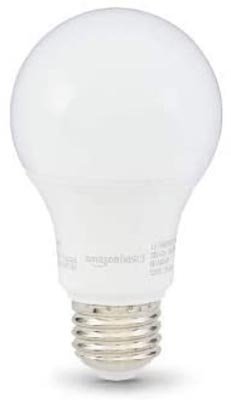 Amazon has impressive selection of extremely high rated LED bulbs. You can easily select your preferred pack size, watt replacement size, and lighting colour.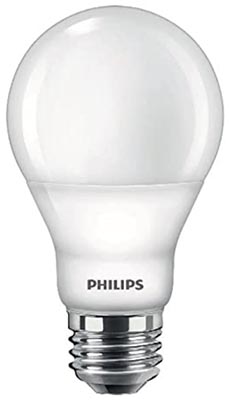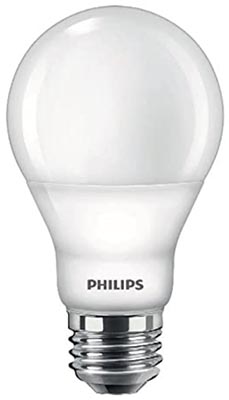 If you require a bulb that can be dimmed or prefer a high-end brand, then go for the Philips. Their bulbs are Energy Star certified and mercury-free.
Smart Lighting
Much like with thermostats, there is also the option to spend a little more for 'smarter' technology and a better user experience.
Smart light bulbs are just as efficient as standard LED's but come with extra programming and control features such as voice and app commands, wake-up and shut-off timers, and 16 million colour options.
Amazon has impressive selection of extremely high rated The Philips Hue is by far the most popular and trusted option in this category. Philips offers a variety of products from stand-alone bulbs to starter kits with multiple home lighting accessories.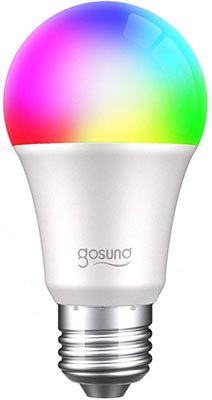 But if you're new to smart lighting and just want to try something out – then we highly recommend the Gosund Smart LED Bulb instead. This bulb is far cheaper than the Philips Hue but still has the same basic functionality and stellar reviews!
---
Power Strips
Conservation potential studies also identify power strips as top way to save energy in your home office and entertainment area. You can easily replace your old strips in no more than a couple of minutes.
These strips work by completely shutting off power to your electronics which ordinarily consume power, even when they are turned off. This energy is sometimes called phantom power and it can account for up to 10% of your electricity/hydro bill!


We recommend the Tripp Lite Power Strip for its intuiting layout (available in black or white). There is an "always on" plugin for electronics that you want to stay on (wifi router) and 6 plugins for your accessories (computer, printer, desk lamp) which you can turn off individually or all at once.
Smart Power Strips & Plugs
Smart power strips and plugs are like other 'smart' technologies in that they can be programmed and controlled remotely. However, they do not stop electronics from draining phantom power! (unlike their 'dumber' version explained above)
Therefore, the only energy savings benefit comes from the ability to turn off electronics that you previously forgot to turn off – either remotely with an app or with a pre-programmed timer.
But functionally, smart power strips and plugs are super cool and easy to use. For example, with a single smart power strip for your desk and a 4 pack of smart plugs – you could probably voice control every lamp in your house!
We highly recommend the smart plugs by Gosund or Yutron. Both allow you to control any electronic with their app or with your voice via your digital assistant.
If you want a smart power strip instead, then we recommend this one from Sipaling. It has the same features as the plugs, but has 4 inlets instead of 1.
---
Energy Monitors
Energy monitors create reports that allow you to see and compare your energy usage. Energy monitors clamp directly to your home's power line at the breaker box, can be installed in less than 30 minutes, and require no additional wiring.
After connected, real time and historical energy usage can be viewed on a mobile and desktop app. They show you how much power is used by major appliances in your home, and then it suggest opportunities for savings.
The Neurio is another good option. Both the Sense and Neuro also work with solar power systems.
(note that energy monitors only apply to homeowners)
---


energyhub.org is licensed and protected under Creative Commons (CC BY).
---
💜 Do you support sustainable energy? Take action or share this page! 💜
---